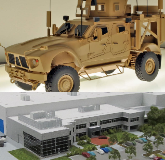 Model Making & Scale Models
KiwiMill builds custom scale models within a budget and time frame defined by our customers. Our expert model making techniques and intelligent use of technology produce accurate, durable, high quality scale models at a competitive price. Some examples of the models we have made: Architectural Models, Aerospace Models, Industrial Models, Large Equipment Models, Trade Show Models, Museum Models, Satellite Models, Military Models
>>> Learn more about our Professional Model Making Services <<<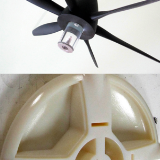 Rapid Prototyping
Send us your 3D drawings and we can provide you with an example of your part very rapidly and accurately. We use a variety of techniques depending upon your requirements including:3D Printing – We have numerous 3D printers in-house.
Casting – Creating plastic parts from a silicone mold.
CNC Machining – Our CNC lathe and CNC mill provide accurate parts quickly. CNC Router – A large envelope (48″ x 96″ x 13″) for a wide range of parts.