Vapor Absorption Model at the AHR Expo, NYC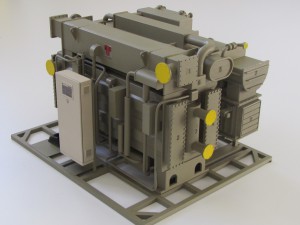 This vapor absorption model was one of three different models that KiwiMill built for the AHR Expo 2014. This annual trade show is held at the Javits Center in NYC.
Virtually all of the parts on the vapor absorption model were 3D printed. The chassis was laser cut out of steel and piping made from heat bent ABS.
The real life vapor absorption machine takes hot exhaust gas and chills water with it.