Another AHR Expo Trade Show Model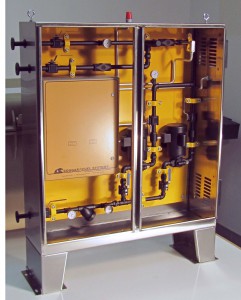 This trade show model of a Fuel Monitoring Cabinet debuted this past January at the AHR Expo at the Javits Center in NYC. It was one of three models KiwiMill built for separate clients represented at this particular trade show.
This model is in 1:3 scale. It resembles the real product but is lighter, smaller and easier to transport to trade shows. Two replicas were created and housed in their own Pelican carrying cases.
The cabinets were made of stainless steel sheet metal. The piping was constructed from real plumbing pieces. The gauges were 3D printed with vinyl labels used for the faces. The motors and valves were also 3D printed.
These scale models should get many years of practical use for our client, representing their product in various trade shows in a cost-effective way.