A Working Model of a Door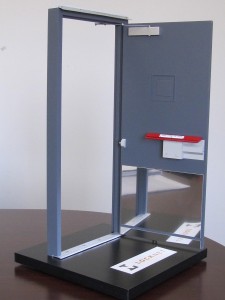 If your company has a great design for a door – what's an effective way to show that off?
A working model!
Once again, instead of brochures, or power point presentations, bring a miniature version of the real thing. It looks like the real door, has all the features of the real door, and operates like it too. Easy to transport, exciting to interact with. Models sell.
Our client exclaimed, "We got the door today and we are SO pleased!  It's everything we wanted and we can't wait to show it off in 2 weeks at our first trade show.Thank you again!"