Pam
Pam is awesome! Quite often, we give her a rough idea of what we want to see done and she figures out how to make it happen.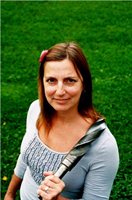 Not only does she make all the content for our outstanding website, she keeps our blog and Facebook pages updated with all of the excitement that goes on throughout the day at KiwiMill.
Check out the blog she has made and you'll see why we can't do what we do without her. Everything there has been written, produced and directed exclusively by her.